Noorman Widjaja was born in a musical family. His talent as a conductor
struck when he had to direct the choral concert to honour of the president
Sukarno at that time in Djakarta (Indonesia) at the age of eleven years for
his suddenly ill father.
In 1969 he began his piano study in the college of music Berlin with Prof.
Gerhard Puchelt, composition with Prof. I Song Jun, and directing with Prof.
Hans Martin Rabenstein.
In 1982 he came to Nuremberg and was promoted as a conductor by the general
chief conductor Hans Gierster. Thus he got around to directing Nuremberg
more than 400 images in the time in the opera-house from 1982 to 1990.
His activity as a conductor led him to Shanghai where he was from 1990 to
1995 an honour-guest's conductor and acting chief conductor. He directs till
this day over and over again in Shanghai numerous concerts. for example, the
symphonies from: Beethoven, Rachmaninoff, Sibelius, Mahler, Tchaikovsky,
Borodin, Korsakov, Brahms, Richard Strauss, Bruckner, etc.
In 1993 he directed the world premiere of the opera " The Great Wall" in
Taipei and, besides, still till 2004 the Taipei Music festival together with
the Taipei symphony orchestra.
From 1993 to 1995 he became a principal conductor Japan Metropolitan opuses
and directed, among the rest, Otello, Turandot, Rigoletto, Tosca and
Trovatore.
With the Russian Philharmonic of orchestras he led Asien-Konzert-Tourneen
and did several CD admissions in Moscow.
He gave his Italy debut in 1994 in the philharmonic concert hall of Verona
with the opera Tutti in Maschera of Carlo Pedrotti. It was so successful
that he was invited in 1997 Verdi requiem with the orchestra to direct choir
and soloist of the arena di Verona in Coccaglio. During the following years
he often appeared as a concert pianist and conductor in Italy.
n addition, Noorman Widjaja directed different international song-contests
and contests for piano and violin, e.g., in Guang Zhou and Peking.
Also in Europe he has already directed many important philharmonic
orchestras, among the rest, in Berlin, Dresden, Hannover, Wiesbaden,
Oldenburg, Bremen, Nuremberg, Moscow and Verona.
In Asia he was active in: Peking, Shanghai, Yokohama, Tokyo, Takamatzu,
Hayama, Nihama, Guang Zhou, Taipei, Hong Kong.
Since 2002 he is active principal conductor of the Seto Philharmonic
Orchestra and as a concert pianist in Asia and Europe. High-carat conductors
and soloists as for example Hirujuki Iwaki, Andre Pisarev, Anastasia
Ceborateva count to his guests, etc.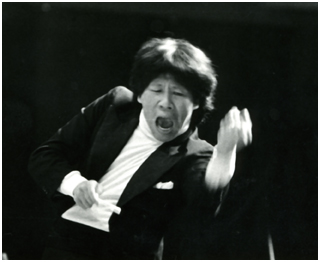 Since 2008 he conducts with the Opera Classica Europe and conducts the Opera
Gala with the Frankfurt Symphonics and the Opera performances Tosca, Carmen and Aida.
By his application for the peace, needy children and physical disasters he
became in Soave, Monteforte, and Racconigi the freeman of Italy appointed.
He co-operates for many years with the actor Karlheinz Böhm and his
organisation " people for people ".
His high-carat singers are:
Sue Patchell - Metropolitan Opera New York
Keith Ikaia Purdy - la Scala di Milano
Juri Batukov - Wiener Staatsoper
Romana Vaccaro - Staatstheater Wiesbaden
Ignacio Encinas - Oper Madrid
William Wilson - Stadttheater St.Gallen
Warren Mok (Tenor) - General Intendant Hong Kong
Boiko Zvetanov - Arena di Verona
Ernesto Grisales - Arena di Verona
and more.
Since 2009 Guest principal Conductor of the Dubrovnik Symphony Orchestra